Category Archives:
Mappe concettuali
C'è stato un periodo con numerose mappe concettuali: questa è una delle sopravvissute.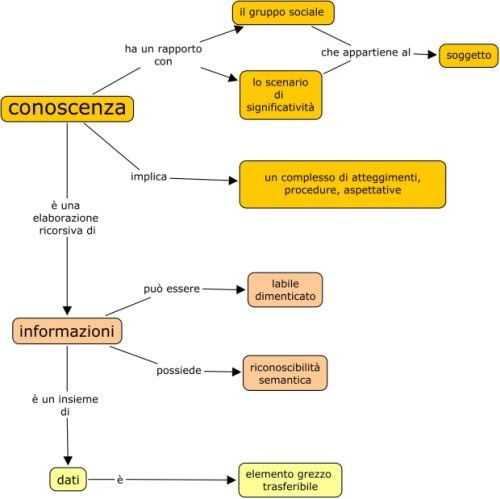 La mappa è ricavata da Rete comunità e conoscenza del -mitico!- Antonio Calvani.
Non proprio rigorose e neppure tascabili, ma queste sono mappe che oltre ad eventuali vuoti cognitivi, colmano pure quellli d'arredamento 😉 E poi – iperattivo come sono- ho sempre preferito imparare qualcosa in piedi!
The Big (32″) Picture of Informal Learning l' informal learning insegnato a disegni, tra l'altro con una grafica cartoon molto caaaarina (autore Jay Cross) – via antostuff –
Knowledge and Learning testuale, poche immagini, molto densa: non per niente il sito si chiama Cognitive Overload ;). Una raccolta di citazioni, definizioni e categorizzazioni ancora in divenire (autore Rodrigue Savoie)
Networked learning foto concettuali, scritte che incontrano immagini, affrontano i temi come quelli del social network o le creative common . Molto evocative, vale la pena darci un occhio…. (autore Leigh Blackall)
Historyshot mappe che rappresentano diverse evoluzioni storiche, dalla corsa alla luna fino alla sfida democratici repubblicani. Graficamente curatissime e molto originali, ordinabili online
Web 2.0 L'avrete già vista tutti, era sulla lista dei desideri natalizi di parecchi blogger, la metto cmq 😉
Il progetto OpenLearn, promosso dalla Openuniversity, mette a disposizione i suoi materiali anche in formato RSS. Per ora i materiali sono di supporto ai software collaborativi, tra cui anche il noto compendium.
The Compendium hypermedia tool is a visual environment for collaborative, semiformal modelling. It extends Rittel's Issue-Based Information System (IBIS), from his original vision of supporting discussion about wicked problems (a skill now taught as Dialogue Mapping)

Open University : Knowledge Media Institute : Compendium Project
Most of the work that's being put into the LabSpace site at the moment has to do with developing tools to support collaboration – the MSG lite instant messenger , for example, 1-click Flashmeeting and Compendium.
OUseful Info: OpenLearn Content via RSS?
Blogged with Flock